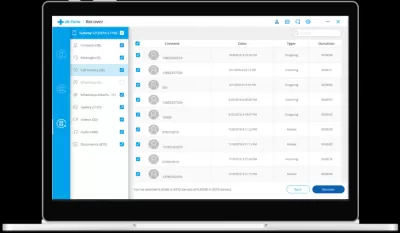 ---
---
Android PC Suite programs are designed specifically to enable users to manage data on their smartphones using a computer, as well as transfer it between a computer and a smartphone, or between two different smartphones.
PC Suite for Android is an excellent free software for a personal computer based on the Android operating system. The system guarantees secure automatic data transfer between phone and PC, as well as fast and easy Internet connection.
Most often, such software packages are used to create backups, as well as transfer copper files, applications,  WhatsApp messages   and many other types of files. Sometimes such programs can be used to remove the lock screen, in the event that the user for some reason has lost control of his device. Also, programs can be used to recover data on those devices that have received some damage.
Programs for managing phone data from a computer are quite popular, because there are a huge number of people in the world who prefer Android. And each of these people at least once faced the problem of creating a backup copy or transferring data and files between different devices.
That is why software managers appeared for the Android operating system. They can help in a variety of situations, and users do not need to have any special knowledge or skills to work with such applications. All that is required for work is a program installed on a computer, a smartphone and a cable to it. After connecting the device to the computer, the program itself will offer the user instructions on what to do and at what moment. All actions are very simple to perform, even a beginner can figure it out.
Such a program saves a lot of time and money, because a trip to a specialized service center can cost a serious amount that the owner of the smartphone is not ready to pay, and the phone will have to be given for a specialist to figure it out. The presence of such a program sweeps aside all these nuances, so you can regain control over your device or transfer data from smartphone to smartphone without leaving home.
You can find literally any program to solve any problem that happened with the device. This can be data recovery from a faulty phone, and fixing errors in the Android system, and removing the lock screen.
There is a huge list of software, which includes a variety of programs for different situations with smartphones. All of them are united by the fact that they are created by the best developers and programmers, and all of them are user-oriented - they have an intuitive interface and are provided with useful simple instructions that help the user understand his further actions.
The users themselves, who at least once used something from this list, very highly appreciate the work with these programs, since there has not yet been a single user who would say that his problem has not been solved. Let's take a look at a short list of these programs.
TunesGO Manager for Android and IOS.
With this program, you can easily and easily control your Android smartphone from any computer. You can import / export data.
MobileTrans
MobileTrans Phone Data Manager and File Transfer. This program will help with transferring files from one device to another.
Tenorshare - WhatsApp Transfer.
This program will help you to back up and transfer Whatsapp and Whatsapp Business between devices with different operating systems.
4uKey (screen unlock).
From the name of the program, everything becomes clear - it will help to remove the Android password, pattern, pin code and even a fingerprint lock.
Dr.Fone is a phone manager.
This program will help with the transfer of various files between a smartphone on the Android operating system and a computer. You can transfer photos and a wide variety of other types of files.
Dr.Fone System repair.
With the help of this program, you can fix the problems that occur with smartphones on Android. The program is able to solve even such a program as the black screen of death.
Dr.Fone Data recovery.
This program, as the name implies, will help the smartphone owner get back his lost important data, and the program will work even with damaged and non-working devices.
And this is just a small list of those programs that are created to help users. In addition, by downloading such programs and working with them, users receive fairly good support, which they can turn to if they have various questions.
---
Explore Your Business Potential: Discover Our Range of Transformative Courses Today!
Unveil the power of knowledge with our diverse array of courses, from Operational Procurement in S/4HANA to SEO essentials. Elevate your expertise and drive success in your business ventures.
Get your course
---
---