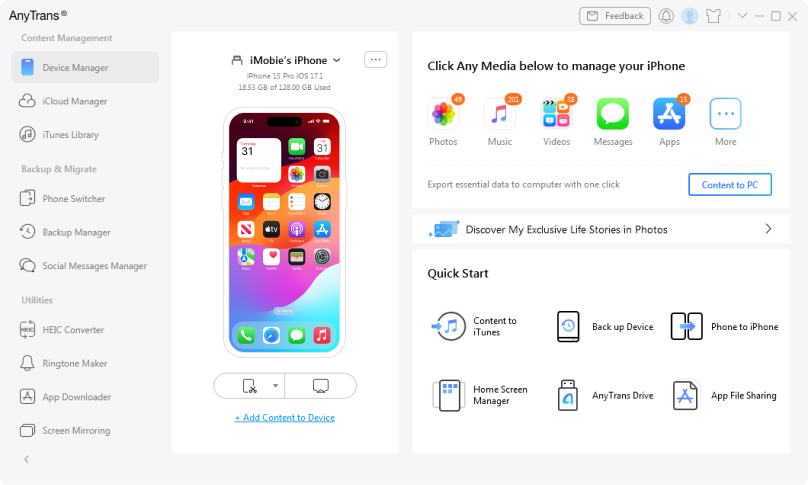 ---
---
Managing iPhone data can be a complex task, especially when it comes to transferring, organizing, and backing up your valuable information. AnyTrans, a versatile iOS data management tool, offers a comprehensive solution to streamline these processes. Whether you're switching to a new iPhone, seeking to organize your media, or backing up essential data, AnyTrans provides a user-friendly interface that simplifies the management of photos, music, videos, messages, contacts, and more. With its intuitive design, AnyTrans enables you to transfer files between devices seamlessly, create secure backups, and even manage app data efficiently.
Data Transfer Between Devices
AnyTrans enables seamless data transfer between iPhones, iPads, and even computers. Whether you're upgrading to a new iPhone or simply sharing content with a friend, this feature proves incredibly useful. Connect the devices, launch AnyTrans, and select the Phone Switcher option. Follow the prompts to choose the source and target devices. AnyTrans supports transferring various types of data, including photos, videos, contacts, messages, and more. This eliminates the need for multiple steps or additional software and ensures a smooth transition.
Media Management
Organizing and managing media files becomes hassle-free with AnyTrans. Whether you want to add new songs, create playlists, or manage photos and videos, AnyTrans offers a simple interface for all your media-related needs. The Media Downloader feature allows you to download videos from popular platforms like YouTube and save them directly to your iPhone. With the Media Library feature, you can manage your music, videos, and photos in a visually appealing and user-friendly manner.
Backup and Restore
Data security is crucial, and AnyTrans provides robust backup and restore capabilities. Using the Backup Manager feature, you can create full backups of your device's data, including photos, messages, apps, and more. These backups can be stored on your computer or an external drive. In case of data loss or device malfunction, you can restore the backup to your device seamlessly. AnyTrans also allows you to preview and selectively restore specific data from backups, avoiding unnecessary data loss.
App and App Data Management
Managing app data can be tricky, especially when switching devices or freeing up storage space. AnyTrans simplifies this process by letting you manage app data without iTunes. You can install or uninstall apps directly from your computer, which is particularly helpful when dealing with large apps. Additionally, you can back up and restore app data, ensuring you don't lose important information when changing devices or performing software updates.
Contacts and Messages
AnyTrans assists in efficiently managing your contacts and messages. You can easily export contacts from your iPhone to your computer or import new contacts to your device. This is useful when transitioning to a new device or keeping your contacts synced across multiple platforms. The Message Manager feature allows you to view, manage, and back up your messages, ensuring you never lose important conversations. You can export messages in various formats, making it convenient for archiving or sharing purposes.
Conclusion
AnyTrans offers a comprehensive suite of tools to manage iPhone data effectively. Its user-friendly interface, wide range of features, and seamless compatibility with iOS devices make it a valuable asset for users seeking greater control over their data. From transferring data between devices to managing media, creating backups, handling app data, and organizing contacts and messages, AnyTrans streamlines various aspects of iPhone data management. By utilizing AnyTrans, users can optimize their iOS experience by simplifying tasks that would otherwise be complex and time-consuming.
---
---
Explore Your Business Potential: Discover Our Range of Transformative Courses Today!
Unveil the power of knowledge with our diverse array of courses, from Operational Procurement in S/4HANA to SEO essentials. Elevate your expertise and drive success in your business ventures.
Get your course
---